This web log begins in the spring of 2010.  I've wanted to do this for the past year or so, but today is the day I am finally doing it.    There's no time like the present. Living in the "present" is a philosophy I have tried to adopt in my everyday existence. When I chose the name for my clock making business over 18 years ago I had no idea what the future would hold.
Which brings me to the present day.  It was a little over a year ago that I broke ground on my future where I have had the opportunity to build a new home and studio from the ground up,  to be able to design and build a creative space to live and work exactly in the way I wanted.  It has been a long and bumpy ride for sure, but the end is at hand.  I would not be able to be doing this if I hadn't purchased  my first home in Los Angeles over 20 years ago.  Real estate can be a good investment sometimes.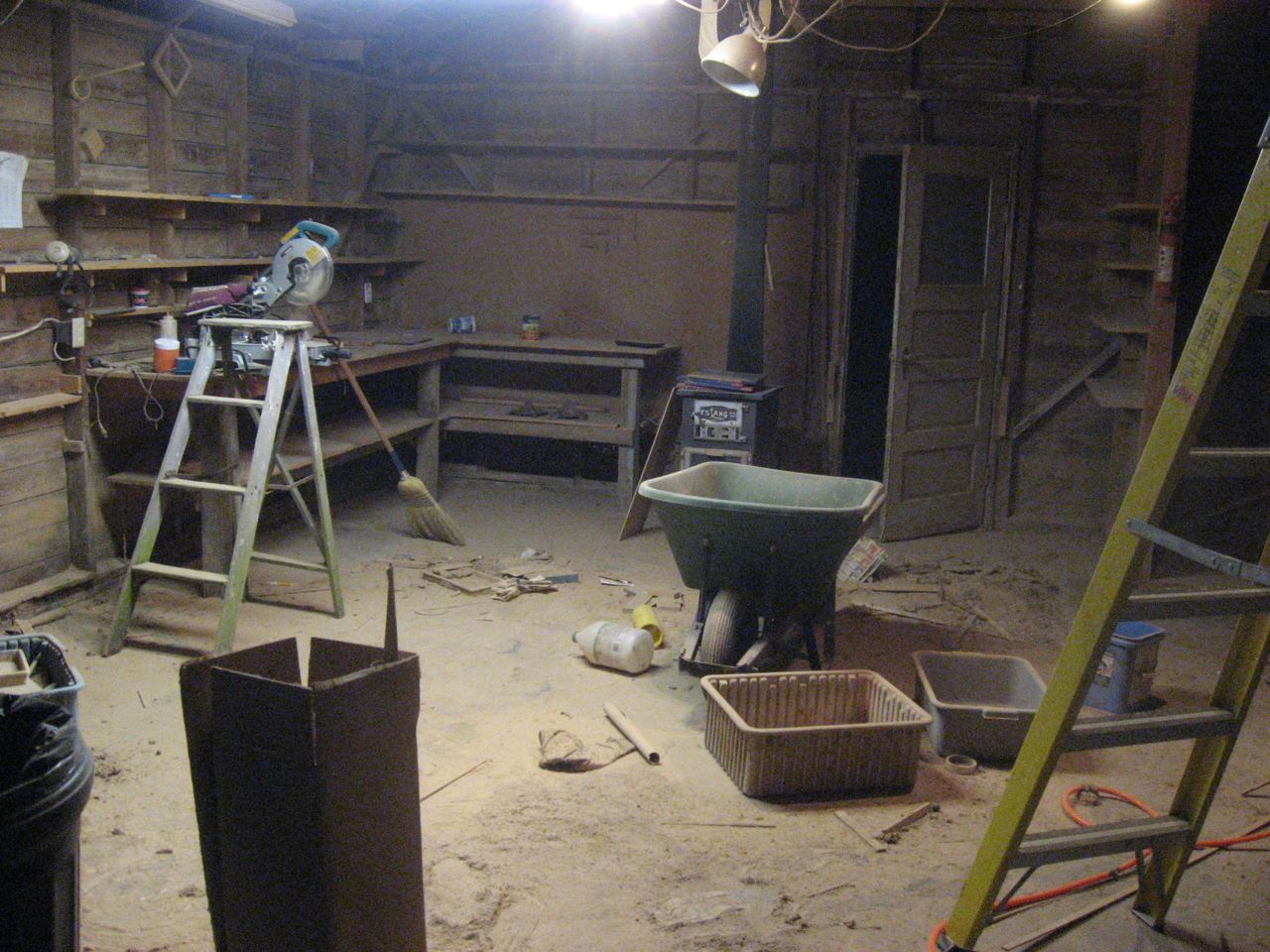 moving day 2008
The work space at my old home on Fir Island was a rather cozy setting.  My woodworking shop was an old garage built in the 20's with no insulation, a cracked floor and a leaking roof,  yet it was perfect for me at the time.  I was able to convert the old horse barn into a beautiful clean studio space that enabled me to do the finish and assembly on the clocks.  Through the course of 15 years I was able to build my business there.    In 2008 after a few life changing upsets, I sold my home on Fir Island and went looking for property on which to build my new home and studio.
The highest priorities I had for land was that it have light and beauty. . . .  actually  being up off of the floodplain and affordable was on top,  but you get the idea.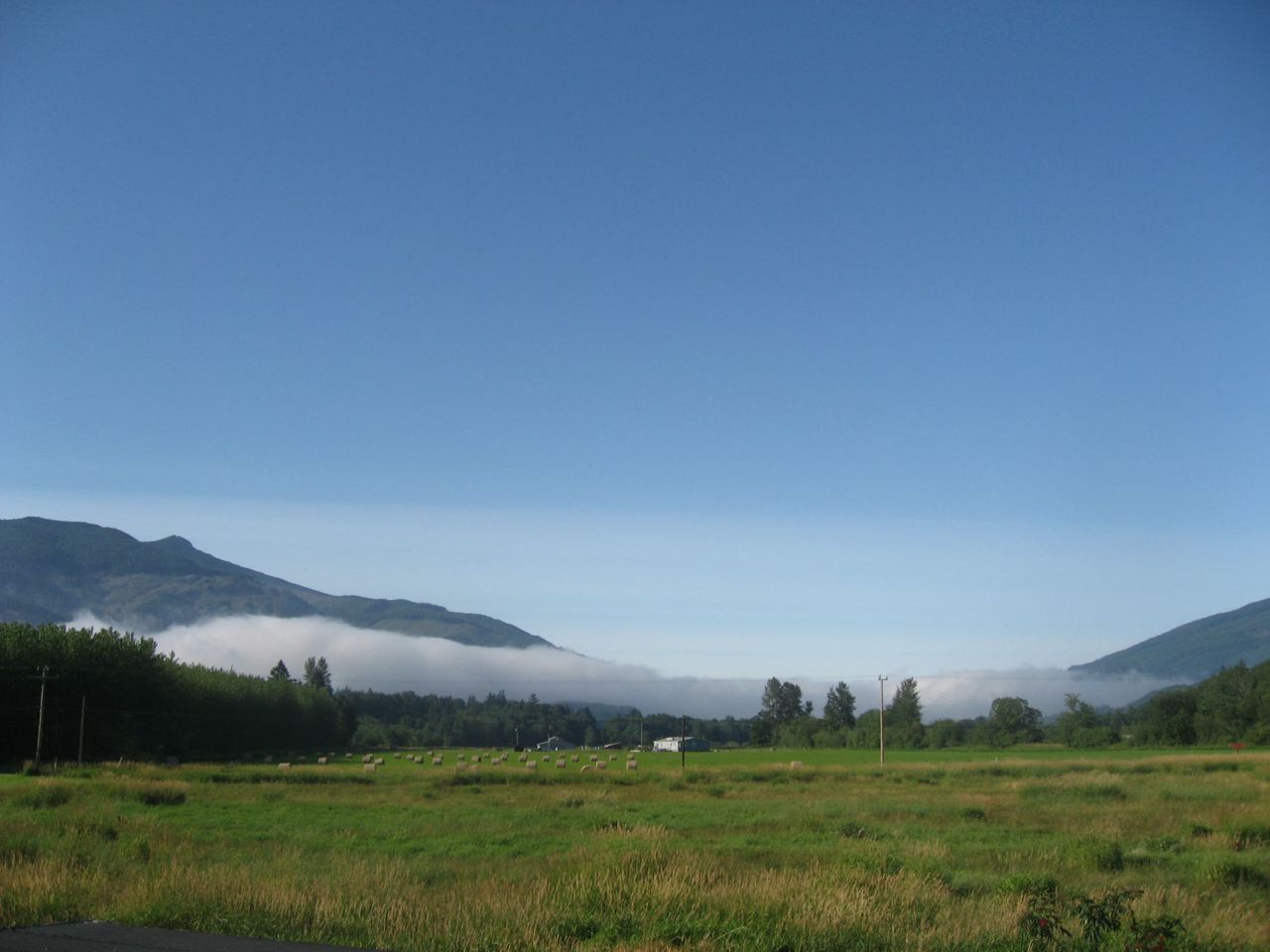 So I landed in Acme WA 98220.
The first indication that this was the place was the name Acme.  The dictionary defines  acme as "the pinnacle of perfection, the highest point achievable" Can you argue with that?
In many ways this place feels like stepping back in time.   I am completely surrounded by nature here and feel to be an integral part of it.  I get to live in elements that do not exist in the city.  I can wake up to imagery that makes me get out of bed at ungodly hours because I have never seen the sky do that before. The light and space are abounding.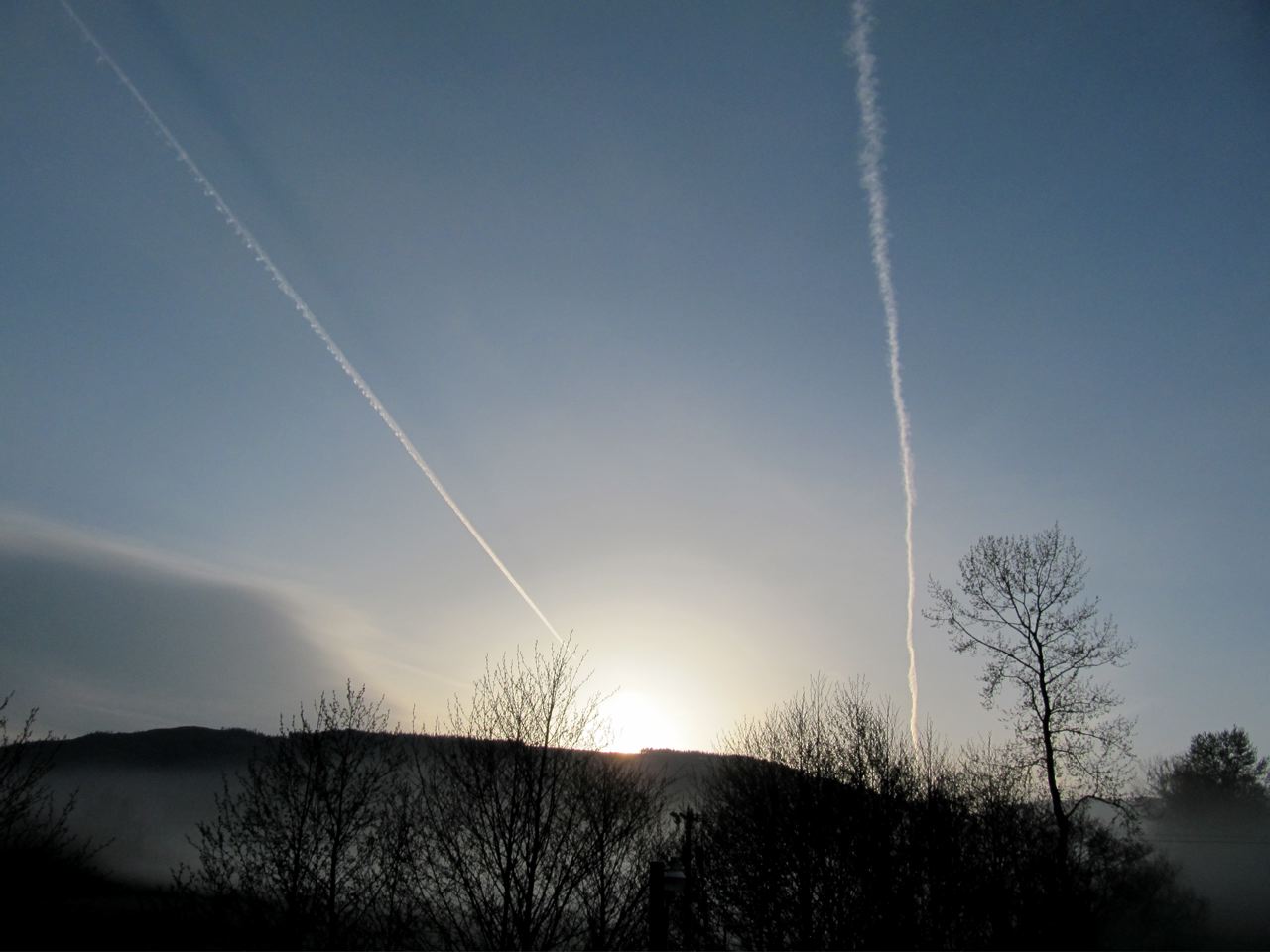 and then there are things like wild elk migrating through in the fall.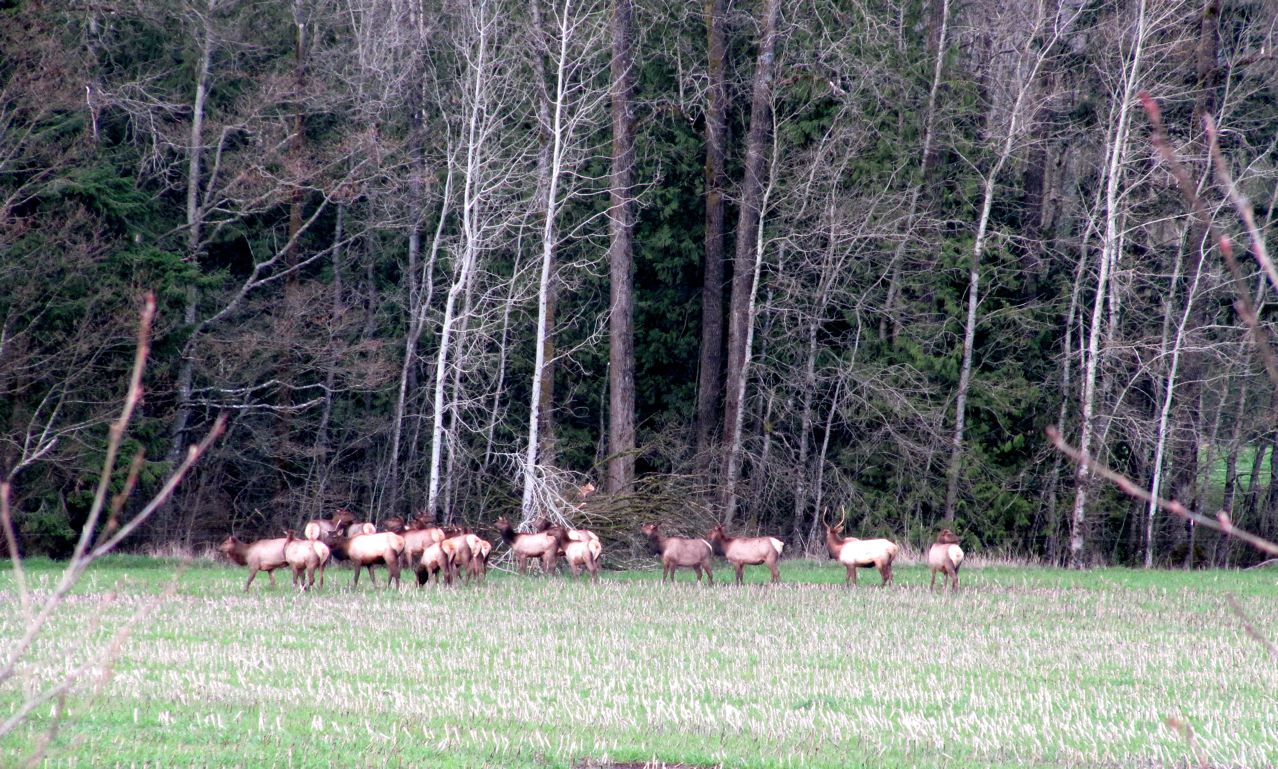 Probably my best luck came with meeting my prospective builder Aaron Sanday.
I had wanted to interview a second builder to get a competitive bid so I got his number off of a flier for www.bigmountainconstruction.com at the Acme General Store.
It turned out Aaron lived across the road from me and did a pretty good job of convincing me that he's the builder for me.  Aaron is well connected with the community and hired mostly local workers so it has been a great way for me to get to meet people here and for them to get to know me.  Perhaps some have wondered what's up with that guy living in that huge shiny barn over there on Maleng road.
The project was originally going to feature inexpensive pole barn structures – a house, a garage and a studio/workshop forming a courtyard.   Kind of a farmstyle villa. The building department nixed that idea because I then found out I had just purchased 11.5 acres of category 3 wetland and the only place I could build was where the land had already been disturbed.  This meant where the decrepit singlewide mobile home was that  I had planned on living in while the new place was being built out in the field.  Change of plans and back to the drawing board.
It was clear that I was going to have to build up,  since I couldn't spread out.  I came up with this crossed monitor barn design that put the home on top and the studio on the ground floor.  The clear advantage was the astounding 360 degree views that were afforded by the 11′ higher elevation.

When the design had finally passed for placement on the land I was sent to Larry in the engineering department.  Larry's favorite line is "nope nope nope"  delivered with a smug grin.  To live in a pole structure it must meet earthquake standards and having the home upstairs didn't help.  They required conventional 2×6 stick construction built within the post and timber frame of the barn structure,  thus doubling the cost.  When I said the words "business" and "home" his eyes lit up with excitement as he turned to the section requiring a full sprinkler system, handicap parking and wheelchair access. I was finally able to convince him that I was a single person operation wanting to do my small business of making little clocks at home and was able to squeak by with only fire doors separating the shop from the rest of the house.
I have since learned that the best way to deal with the  building department is to just keep your mouth shut.
All this brings me back to Aaron of Big Mountain.  He was able to pull it off so I could get it built for close to my original estimate. The plan was for him to build the basic structure up to the paint on the drywall and I would do the rest.  Of course during construction changes and upgrades occur and it's common knowledge that it is better do it during construction because it will cost 10 times the amount to do it later.  Why settle for a small window when you can have a deck off the bedroom for only $2500!  I've had to take out a loan to cover the extra costs and do some creative financing.  It seems like a miracle that it has happened and now exists.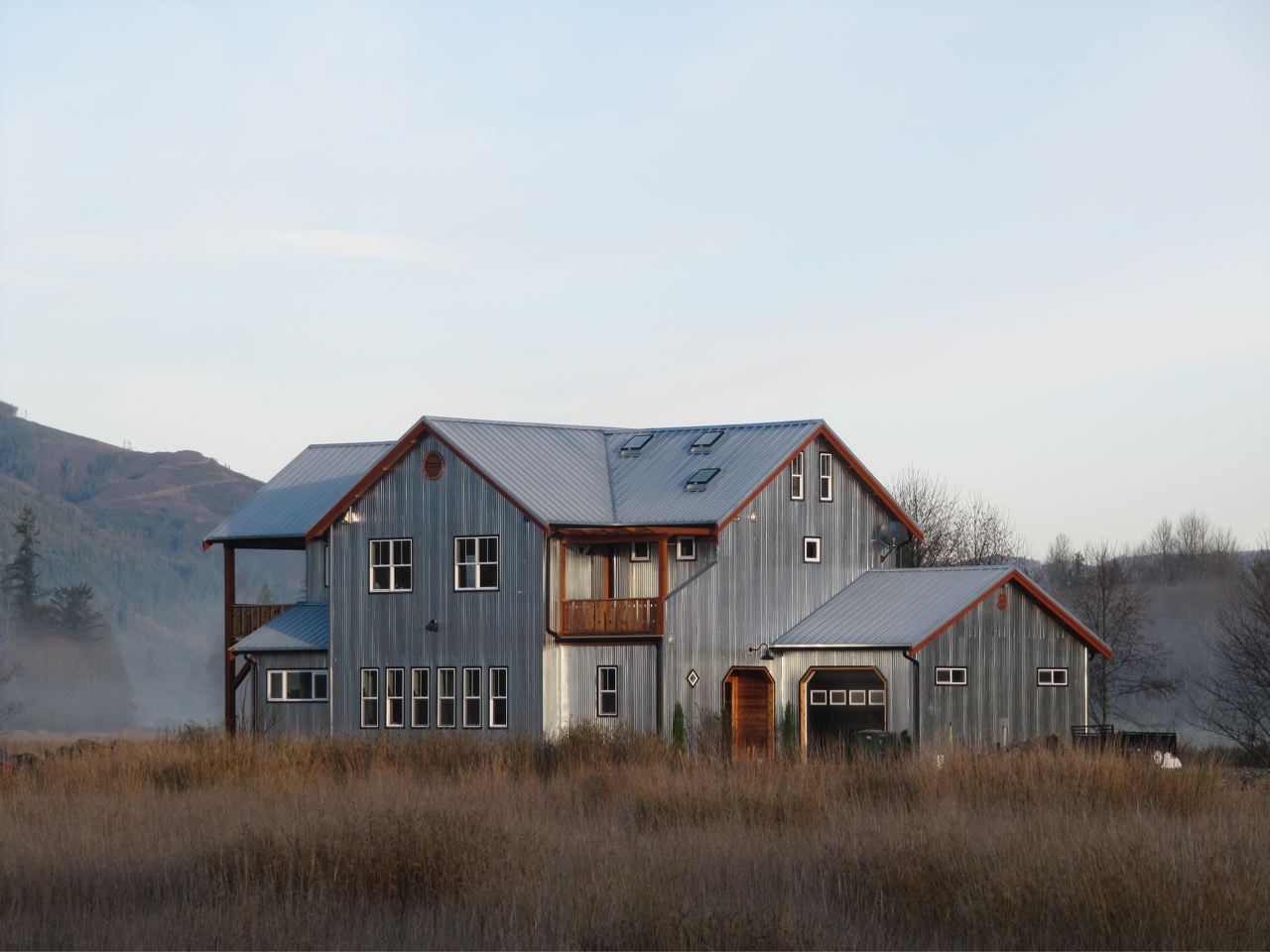 Since the mobile home was to be burned and removed,  I had to move into an 18 foot trailer with a leaking roof I bought off craigslist for 9 months.  I commuted 45 minutes back to Fir Island to do my clock work at my temporary shop generously loaned to me by my friend Arnie Garborg.
(you will be hearing more about him in future posts)
In the fall as soon as the drywall was up and the wall paint dry I started moving in.  The new shop was in operation on 9/9/09, a lucky day indeed.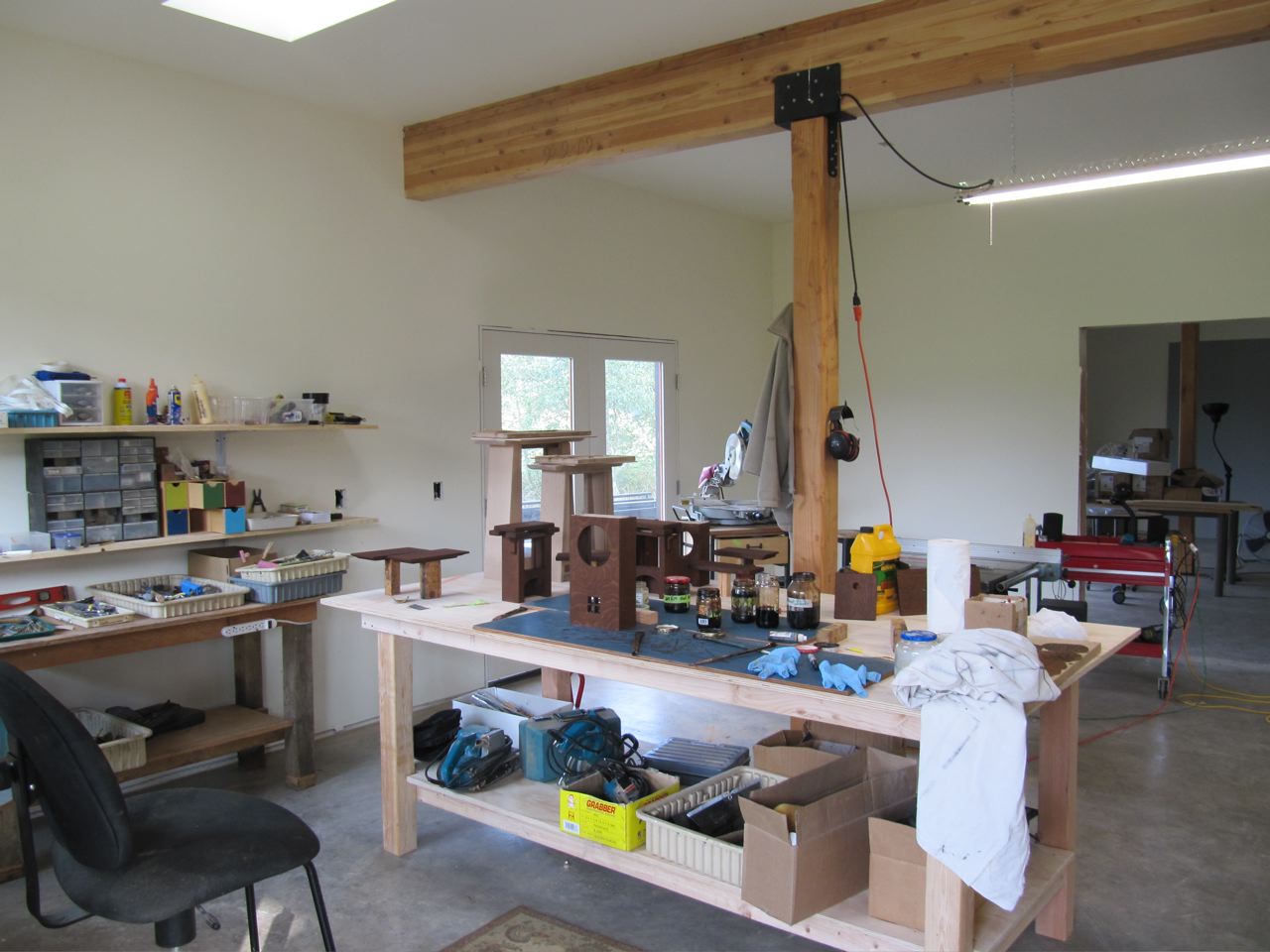 The shop was not finished of course, it was set up though so I could use it to work on projects to finish the shop and the house.  I somehow juggled turning out my first run of clocks and also did the finishing on hundreds and hundreds of feet of wide pine trim pieces and dozens of doors. I ended up hiring Aaron to install the trim and doors and the southern yellow pine floor, but there is plenty left for me to do building cabinets, flooring, tile work and trim details.  I continue to this day in May  2010, juggling working on the house with trying to make a living with my clock business.  The downturn in the economy did not come at a very good time for me.  I am finishing up a small run of clocks downstairs while I am also doing the tile work in the kitchen.  Just a few more cabinets to make and soon the house will be finished enough so I can refinance.   I can then focus more on why I am here and what I intend to do with it this amazing place.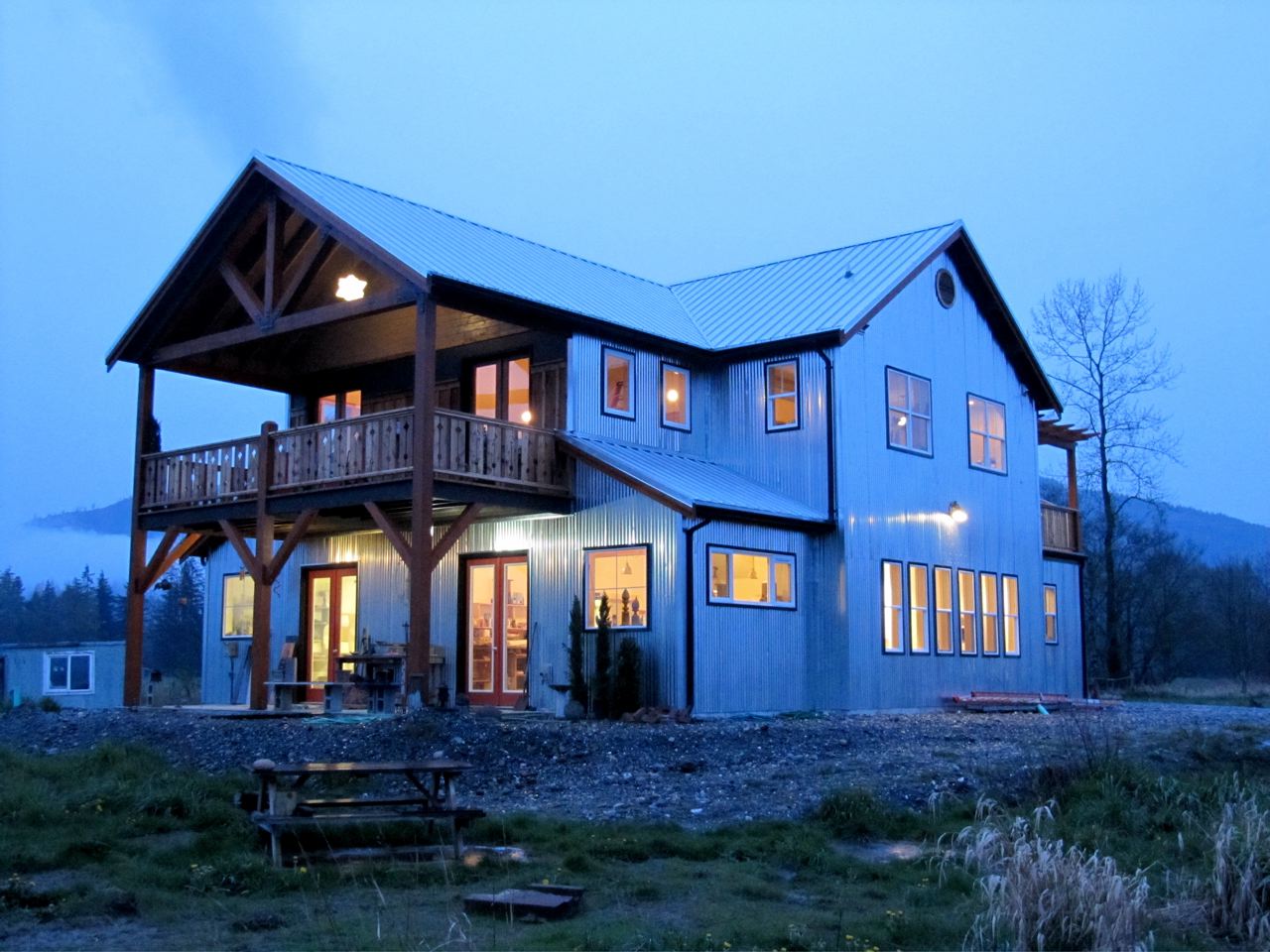 It is a fine line I am walking right now and I fear missing a step can send it all crumbling, but I can only look forward and not look down or back.    It's living in the present I suppose.
. . . coming up soon, let's make a new ad for the magazine!
Jim Dailey
clockguy@mac.com